Štítek:
výrobaspodníhoprádla
S Timem jsem nahlédla pod pokličku tvorby spodního prádla, kde vznikají kolekce přímo pod rukama
V kostce o mně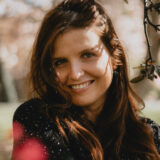 Nadšený networking lover, podporující peer consultant a občasný kreativní psavec milující starý nábytek a domy, krušnohorskou (a pro někoho tvrdou) přírodu, babičkovské hrnky, víno a kávu. A co vám mohu předat? Že věřit sobě samotným a svým snům, je to hlavní. Pak už přijde vše ostatní samo, v okamžik, kdy to má přijít.
Soulmate Eva